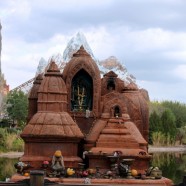 Jul

18
Tags
Related Posts
Share This
Episode 16: The Other Parks
Podcast: Play in new window | Download
Welcome to the 16th episode of the DFB Podcast!
In this episode we cover the latest Disney Food News; discuss AJ's and Brad's favorite table service options at three of the "other" Disney parks; answer a few listener questions; and reveal the answer to our Episode 15 trivia question and stump you with a new one!
For this episode's main segment, AJ and Brad chat about their favorite table options at the less-visited Disney parks (though this is probably no longer the case for California Adventure!): Disney's Hollywood Studios, Disney's Animal Kingdom, and Disney's California Adventure.
LISTENER QUESTIONS
Listen in to find out the answers to these great questions!
Amy M.: Assuming that you have only one evening scheduled at Downtown Disney and you have dinner planned at Cooke's of Dublin, which is the better option for dessert, sundae at Ghirardelli or brownie cream sandwich at Earl of Sandwich?
Tara: What is your opinion on the best chocolate chip cookies on Disney property?
Got a question? Send it to [email protected] with "PODCAST" in the subject line.
TRIVIA
Name at least two new bi-coastal menu items, available at both Disneyland and Walt Disney World! Send your answer to [email protected] to be entered to win a Disney Food Blog Dining Guide e-Book of your choice!
More Fun Stuff From This Podcast
About the Picture: Animal Kingdom gets mysterious!

Complete your DHS and DAK knowledge! Since we've discussed table service at Animal Kingdom and Hollywood Studios, all you need now is the companion snacks guide! The brand-new Animal Kingdom and Hollywood Studios mini guide to everything snacks are the answer! Get yours today! Or, opt to get our specially-priced bundle of all three snack guides, along with the 2013 DFB Guide to WDW Dining!
Thanks for listening!! Please rate and review the podcast on iTunes, follow DFBPodcast on Twitter, and leave your comments below!