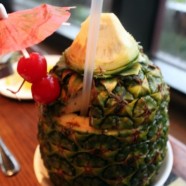 Sep

29
Tags
Related Posts
Share This
Episode 21: Disney Bars and Lounges
Podcast: Play in new window | Download
Welcome to the 21st episode of the DFB Podcast!
Welp, since the podcast is "21" now, it's time to indulge in a little celebration, isn't it? Yep — we're headed to our favorite bars and lounges in Disney World and Disneyland today!
In this episode we cover the latest Disney Food News. Then, AJ and Brad share their favorite watering holes in Walt Disney World and Disneyland; answer some listener questions, and finally, unveil a new trivia question and reveal the answer to the Episode 20 trivia question!
LISTENER QUESTIONS
Listen in to find out the answers to these great questions!
Q: (from Listener Christina) I'm going to MK on a day with hours 9-7. Can I still get an ADR for 7 in the park? Not sure what closing time is for Park vs. Restaurants vs. Rides vs. Shops. My 180 day window is fast approaching, so any insight you have is appreciated.
Q: (from Listener Melissa) 1. Do you know if AKL still does the free restaurant tour? 2. Are the Gourmet Cake Cups from Cheshire Cafe a snack credit on the DDP?
Got a question? Send it to [email protected] with "PODCAST" in the subject line.
TRIVIA
This podcast's trivia question: What drink that used to be found at Disney World's Adventurers Club is now found at Disneyland's Trader Sam's?
Send your answer to [email protected] with "trivia" in the subject line to be entered to win a Disney Food Blog Dining Guide e-Book of your choice!
More cool stuff: Order the 2014 DFB Guide to Walt Disney World® Dining today for just $18.95! Visit DFBStore.com to order your 2014 edition! Plus, follow Disney Food Blog on Instagram for your daily dose of Disney food porn. (:
Thanks for listening! Please rate and review the podcast on iTunes and leave your comments below!