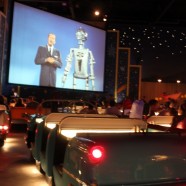 May

19
Tags
Related Posts
Share This
Episode 4: Atmosphere
Podcast: Play in new window | Download
Welcome to the fourth episode of the DFB Podcast!
In this episode we cover the latest Disney Food News, discuss some Disney restaurants with exceptional atmosphere and themeing, answer a few reader questions, and reveal the answer to our controversial Episode 3 trivia question (as well as give you a brand new trivia question)!
Restaurants mentioned:
Cinderella's Royal Table
Liberty Tree Tavern
San Angel Inn
Restaurant Marrakesh
Rose and Crown
Sci-Fi Dine-In
50's Prime Time Cafe
Yak and Yeti
Tusker House
Rainforest Cafe
T-Rex Cafe
Blue Bayou
Reader questions:
1. I'd like advice about ordering "off the menu" for my picky 5yr old. On our next trip I would love to experience O'hana, Liberty Tree Tavern, & The Garden Grill at Epcot for dinner, but even the kids' picks listed won't be of interest to my kiddo. Any suggestions or thoughts you would be willing to share would be fantastic!
2. I am not very adventurous when it comes to dining; what are your thoughts on trying Jiko?
3. If you could only have one meal at some Disney property — after which you would never return to the Disney parks again — where/what would it be, and why?
More Fun Stuff From This Week's Podcast
Link to Post About Disneyland's Roastie Toasties: Disneyland Popcorn Personalities
About the Picture: Dine in an indoor/outdoor Drive-In Theater at Sci-Fi Dine-In in Disney's Hollywood Studios!
Music This Week: The bumper music in this week's podcast is from Disneyland! You'll hear snippets from rides like Toy Story Midway Mania, Pinocchio's Daring Journey, Pirates of the Caribbean, and Space Mountain as well as a quick vignette from Frontierland!
Thanks for listening!! Please rate and review the podcast on iTunes, and leave your comments right here!