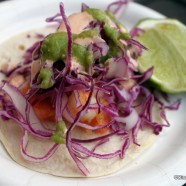 Sep

04
Tags
Related Posts
Share This
Episode 9: Epcot Food and Wine Festival Tips
Podcast: Play in new window | Download
Welcome to the ninth episode of the DFB Podcast!
In this episode we cover the latest Disney Food News, discuss tips for maximizing your enjoyment at the Epcot Food & Wine Festival, answer a few listener questions, and reveal the answer to our Episode 8 trivia question (AND give out a brand-new trivia question!)
Here's a sneak peek of some of our TOP TIPS FOR VISITING THE EPCOT FOOD & WINE FESTIVAL! (You'll have to listen to get the rest!)
Get the passport booklet at the Festival Center to plan your visits, and get your book stamped at the booths — it's free!
Book seminars and special events as far ahead of time as you can — they sell out!
Use a wristlet gift card.
Bring a tray or even your own table!
Lots more where these came from…
LISTENER QUESTIONS
Q: Dan H: What are some great meal values for a traveler on the go who's not concerned with sitting down in a nice location for a meal? It could just be stands or walk-up venues that offer solid food at a reasonable (by Disney standards) price.
Q: Amy M: Assuming that you have only scheduled one evening at Downtown Disney and you're planning to have dinner at Cooke's of Dublin (inspired by a review on the DFB), which is a better choice for dessert:  sundae at Ghirardelli, or brownie creme sandwich at Earl of Sandwich?
TRIVIA:
What retro food item recently made a resurgence, along with its own mascot, at an iconic Magic Kingdom location? Name the item, the mascot  and the location!
More Fun Stuff From This Week's Podcast
About the Picture: It's the crispy shrimp taco from the Mexico Booth at the Epcot Food and Wine Festival!
More F&W: Be sure to visit the DFB 2012 Epcot Food & Wine Festival homepage of yummy goodness for even more details on this year's event!
Thanks for listening!! Please rate and review the podcast on iTunes, and leave your comments right here!