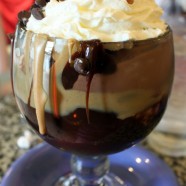 Mar

29
Tags
Related Posts
Share This
Episode 14: Best Disney Hotels for Dining
Podcast: Play in new window | Download
Welcome to the 14th episode of the DFB Podcast!
In this episode we cover the latest Disney Food News, including DISNEY SPRINGS!; discuss some of the best resort hotels for dining; answer a few listener questions, and reveal the answer to our Episode 13 trivia question (AND have you scratching your head with a new trivia question!)
For this episode's main segment, AJ and Brad chat about their favorite dining-focused resorts at Walt Disney World and Disneyland. Many of these resorts have a lot of great choices within pajama pant distance — as in: walk downstairs, sit, eat, enjoy!
LISTENER QUESTIONS
Kathleen G.: In April, I will be spending a day and evening at Epcot with my husband, who wears two hearing aids, and our 9-year-old son. I want to make an ADR at Epcot for dinner, and am looking for a table service restaurant that we will all 3 enjoy. So what would be your top 3 choices for a relatively quiet table service restaurant for us at Epcot, or within easy walking distance of Epcot?
Joel E. What foods are basically the same throughout the theme parks (or IRL, like popcorn)?  So we don't splurge or take time getting something somewhere, when we could get it cheaper or in a more relaxed/pleasant setting elsewhere?
Got a question? Send it to [email protected] with "Question" in the subject line.
TRIVIA
Where at Walt Disney World can you find this quote on the wall? "It is the pot that boils but the dish that gets the credit." Send your answer to [email protected] to be entered to win a Disney Food Blog Dining Guide e-Book of your choice!
More Fun Stuff From This Podcast
About the Picture: The famous No Way Jose sundae from Beaches & Cream, a restaurant we heartily recommend in the Epcot Resorts 'hub' at WDW!
More Restaurant Recommendations! Want to know more about resort dining at WDW and DLR? Our Best Disney World Restaurant Series can aid you in your culinary journey! And of course there's our general Disney World Restaurants Guide and Disneyland Restaurants Guide as well!
Thanks for listening!! Please rate and review the podcast on iTunes, follow DFBPodcast on Twitter, and leave your comments below!