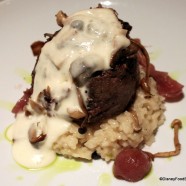 Dec

11
Tags
Related Posts
Share This
Episode 17: Dream Meals at Disney Parks
Podcast: Play in new window | Download
Welcome to the 17th episode of the DFB Podcast!
In this episode we cover the latest Disney Food News; discuss AJ's and Brad's dream Disney meals at both Disneyland and Walt Disney World; answer some listener questions; and reveal the answer to our Episode 16 trivia question and reveal a new one!
For this episode's main segment, AJ and Brad discuss their dream meals at Disneyland and Walt Disney World — if they could cobble together their favorites on each coast, what would that meal look like? AJ and Brad each choose an appetizer, an entree, and a dessert from Disneyland and from Walt Disney World!
LISTENER QUESTIONS
Listen in to find out the answers to these great questions!
Debbie L.: I'm going to Disney World for the first time during Christmas week. What restaurant do you recommend for a holiday meal?
Keith F.: What are the two best snacks in Epcot?
Got a question? Send it to [email protected] with "PODCAST" in the subject line.
TRIVIA
Name two of the Disney restaurants that have a character meal for breakfast only. Send your answer to [email protected] to be entered to win a Disney Food Blog Dining Guide e-Book of your choice!
More Fun Stuff From This Podcast
About the Picture: The Mushroom Filet at Le Cellier steakhouse: AJ's favorite entree!
More Disney Holidays! The holiday season at Walt Disney World is here! The extra festivities can be overwhelming, but by pre-planning, you'll be able to choose the events, shows, activities and meals that are most important to you and create a strategy to make sure you experience them all. You can do so with the DFB Guide to the Walt Disney World Holidays 2013 e-Book! Listen to the podcast for a special promo code to save on this guide and download immediately to plan your holiday vacation.
Thanks for listening!! Please rate and review the podcast on iTunes, follow DFBPodcast on Twitter, and leave your comments below!