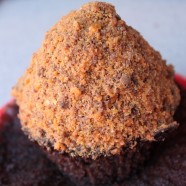 Jun

18
Tags
Related Posts
Share This
Episode 15: Unique Disney Snacks
Podcast: Play in new window | Download
Welcome to the 15th episode of the DFB Podcast!
In this episode we cover the latest Disney Food News, including exciting WDW FREE DINING news and tips; cover some of the most unique snacks at each Disney park; answer a few listener questions; and reveal the answer to our Episode 14 trivia question and stump you with a new one!
For this episode's main segment, AJ and Brad chat about some of the best and most unique snacks found at each Disneyland and at Walt Disney World park. Listen hard for the difference between Tigger Tails and Tiger Tails, as well as why AJ finds the plastic cheese at Disneyland superior!
LISTENER QUESTIONS
Listen in to find out the answers to these great questions!
Angelina, of Vacaville, California: The last time that I was in Disneyland I tried the Hungry Bear Restaurant and was blown away by their Fried Green Tomato sandwich. What are some other unique finds in Disneyland, Downtown Disney, or Disney California Adventure that not everyone knows about?
Josh G. I know you talk about your favorite foods on the website and podcast, but what are your favorite rides, shows, films, and street entertainment in the parks? (Listen for AJ's very diplomatic answer here, ha!)
Got a question? Send it to [email protected] with "Question" in the subject line.
TRIVIA
At which two Walt Disney World locations can you find house-made caramel corn? Send your answer to [email protected] to be entered to win a Disney Food Blog Dining Guide e-Book of your choice!
More Fun Stuff From This Podcast
About the Picture: Why, it's the mother of all cupcakes, a star of the DFB Snack Attack, and an early-on DFB find: The Butterfinger Cupcake, found in Hollywood Studios' Starring Rolls Cafe!
Want More Snacks? Want to know more about the array of snacks available at Disney Parks? Then the Magic Kingdom, Epcot, and upcoming Animal Kingdom and Hollywood Studios mini guides to everything snacks are the answer! Get yours today! Or, opt to get our specially-priced bundle of both the Magic Kingdom and Epcot snack guides, along with the 2013 DFB Guide to WDW Dining!
Thanks for listening!! Please rate and review the podcast on iTunes, follow DFBPodcast on Twitter, and leave your comments below!