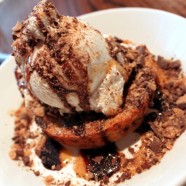 Feb

26
Tags
Related Posts
Share This
Episode 19: The Disney Ice Cream Polar Vortex!
Podcast: Play in new window | Download
Welcome to the 19th episode of the DFB Podcast!
It's been a long, cold winter across the United States. So, for this episode's main segment, we've created our own ICE CREAM POLAR VORTEX!!! Yep, it makes total sense that AJ and Brad discuss the must-have, must-try, most brain-freeze-inducing ice cream and other cold delicacies at Walt Disney World and Disneyland. Dole Whip? Beaches 'n Cream Sundaes? Jungle Juice Slush? They're all discussed here.
In this episode we cover the latest Disney Food News; talk about can't-miss ice cream at Walt Disney World and Disneyland; answer some listener questions; then we ask YOU a new trivia question and reveal the answer to our Episode 18 trivia question!
LISTENER QUESTIONS
Listen in to find out the answers to these great questions!
Dan F.: My wife and I are heading to Disney World in April and May, and we're wondering which breakfast buffets options do not have character meals?
Julie C.: What are your favorite restaurants to visit in Disneyland when you're on a budget?
Got a question? Send it to [email protected] with "PODCAST" in the subject line.
TRIVIA
This podcast's trivia question: What Disney theme park features a restaurant set up in the living quarters of a group of paleontology students?
Send your answer to [email protected] to be entered to win a Disney Food Blog Dining Guide e-Book of your choice!
More Disney in 2014! Get started on your 2014 Walt Disney World plans now! Order the 2014 DFB Guide to Walt Disney World® Dining today for just $18.95! Visit DFBStore.com to order your 2014 edition! Be sure to listen to the "news" portion of the podcast for a code for $4 off!
Thanks for listening!! Please rate and review the podcast on iTunes, follow DFBPodcast on Twitter, and leave your comments below!