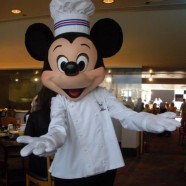 Oct

08
Tags
Related Posts
Share This
Episode 10: Chef Mickey's & Goofy's Kitchen
Podcast: Play in new window | Download
Welcome to the 10th episode of the DFB Podcast!
In this episode we cover the latest Disney Food News, discuss popular character buffets (the food kind, not the singer-songwriter kind) at Walt Disney World and Disneyland, answer a few listener questions, and reveal the answer to our Episode 9 trivia question (AND debut a brand-new trivia question!)
For this episode's main segment, AJ and Brad discuss the pros and cons of both the East Coast and West Coast's arguably most popular character buffets: Chef Mickey's at Walt Disney World and Goofy's Kitchen at Disneyland. It's positively telekinetic!
LISTENER QUESTIONS
Q: John H: When is the best time of day to visit a buffet? (We give 3 different answers on this!)
Q: Milly P: What's the best Disney World resort to stay at from a food perspective?
TRIVIA:
In what restaurant's code of conduct does it state: "Duels by cutlass or pistol shall be taken outside with witness. Ye witness must have one good eye."?
More Fun Stuff From This Week's Podcast
About the Picture: Why, it's Chef Mickey himself, greeting you at Chef Mickey's at the Contemporary Resort at Walt Disney World.
More character buffets: Check out Choosing the Best Disney Character Meal and 11 Tips for Better Character Dining in Disney World for even more tips on having an aweseome character buffet experience!
Thanks for listening!! Please rate and review the podcast on iTunes, and leave your comments right here!